Therapeutic Coaching
Solution-focussed psychological counselling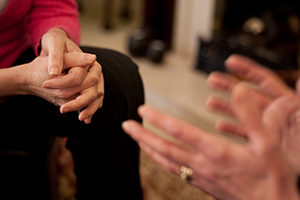 WhatisTherapeutic Coaching?
I coined the term Therapeutic Coaching to describe the blended Psychological Counselling method that I use with my clients. It takes the best from three proven techniques:
Cognitive Behavioural Therapy (CBT)

Solution-focused Counselling

or

Brief Therapy

Coaching
It's an enjoyable, pragmatic and drug-free method intended to produce tangible results quickly.
Therapeutic Coaching is very empowering and effective because it focuses on real issues here and now, and progresses you toward practical solutions. It's not theoretical, nor does it leave you stuck in the past.
Its coaching flavour also means that it deeply respects your intelligence, life experience and personal perspectives, while equipping you to handle current challenges more effectively.
This is very different from the stereotype of therapy portrayed in movies, where clients spend years being psychoanalysed or the therapist just listens, occasionally asks how their client feels, or nods off! Therapeutic Coaching is interactive and solution-focussed.
It also comes with a large kitbag of psychological techniques for resolving depression, anxiety, relationship problems and generalised stress.
Additionally, I specialise in using nutrition to optimise psychological and nervous system function. This is an incredibly potent yet terribly under-applied area of knowledge in Health Psychology, that I am quite passionate about.
Who is Therapeutic Coaching suitable for?
Therapeutic Coaching is intended for adults and mature young people 16 years or older.
It's particularly suitable if you are usually or in most ways a high-functioning person, but currently challenged by depressed mood, stressful circumstances, anxiety, confidence issues or relationship concerns.
It's also great for helping you to navigate tricky practical problems.
It's especially appropriate for those who prefer a drug-free approach, but is also fine if you are already taking anti-depressant or anti-anxiety medications on the advice of your doctor.
Who is Therapeutic Coaching
not

suitable for?

Therapeutic Coaching is not intended for children under the age of 16. However, it can be excellent support for parents of a child with behavioural or mood issues.

It also may not be suitable for you if you have a major drug or alcohol problem, or have been diagnosed with a substantive psychiatric condition such as a psychotic illness, personality disorder or severe eating disorder. For these conditions you should seek the assistance of a Psychiatrist and/or a Clinical Psychologist.
How do the sessions work?
Sessions for adults are usually 90 minutes. Shorter 60 minutes sessions are appropriate for younger people and those on a tight budget.
Depending on the issues you want to address, your first session will be investigative, plus some initial problem-solving. This means you will tell your story, we'll make a plan for how to proceed and, usually, we'll get started.
Momentum then really picks up in your second session, when a lot of useful work gets done. That's why it's recommended to have your first two sessions quite close together — within a week, if possible.
If you need more sessions after this you can space them according to your needs and budget. There is no requirement to attend weekly sessions on a strict schedule, as some practices insist.
How many sessions will you need?
This is a tricky question because the answer depends on the nature of your issues and what's required to resolve them.
Occasionally a client leaves happily after just one very productive problem-solving session. Most do several sessions spread across a few months. Others like to attend every three or four weeks for a couple of years, for ongoing support.
As a very broad guide, an average client attends between three and eight sessions to resolve most of their initial, primary concerns.